Register early to ensure there is space for your family!
Bible study, nature walk, archery, sewing, board games, music, and more are being planned for this fun retreat. Connect with other homeschooling families from across North Dakota. Whether you are brand new to homeschooling or a homeschooling veteran, we would love for you to join us! There will be opportunities for family time and also adult time. Theology at this retreat is taught from the LCMS perspective.
$35/person ($175 family maximum) includes lodging and meals!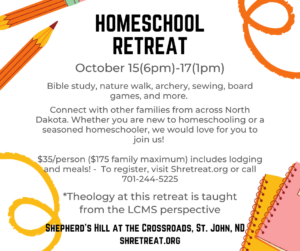 Bookings
Do you already have an account with us?
Sign In
Log in if you already have an account with us.